Darren Kinnard
Section618.com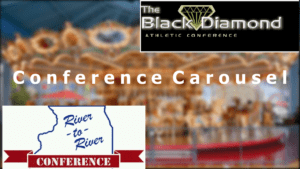 Step right up! The conference carousel is spinning once again in southern Illinois.
The expansion of the Cahokia Conference to 18 teams with the additions of Chester, Sparta, Okawville, East Alton/Wood River and Roxana not only leaves the Black Diamond and River to River each with a spot to fill, but it also takes away many potential replacements.
Each conference will have meetings within the next two weeks to make decisions about the future.



Flora seems to be a logical choice for the Diamond, which would give the BDC a ten-team, closed conference in football. Flora would fit nicely in the East division along with Carmi-White County, Edwards County, Eldorado, Fairfield, and Hamilton County for all other sports, with Johnston City switching to the West. If Flora turns out not to be an option, the conference may have a tough time finding another football playing school.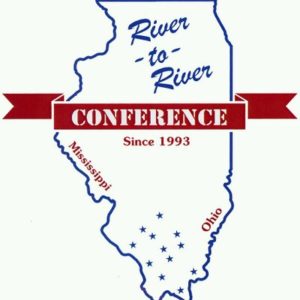 The situation is a bit more complicated for the SIRR. Barring anybody else leaving, there are three choices–find another school to get back to 12 teams and even out the divisions, stay with 11, or contract one school to leave a ten-team, closed conference. Actually, there are four choices if you consider adding a football only school, but that is highly unlikely. Each option has significant drawbacks.
Mt. Carmel and Breese Mater Dei are a couple of options (only?) to add. Both schools' enrollments (Mt. Carmel 488.5/Mater Dei 408) fit on the Mississippi side, but neither are great fits geographically. Adding Mt. Carmel would likely lead to realignment of the divisions, perhaps even a radical realignment, as there is no good way to travel between the land of the Golden Aces and say Anna-Jonesboro, or Massac County, or Murphysboro. If realigning strictly by enrollment numbers, given the current set up, flipping Carterville and West Frankfort makes a lot of sense. But that would separate the Redbirds from their Franklin County rivals, the Benton Rangers. That still wouldn't make Mt. Carmel a fit (location-wise) for the Mississippi as constructed.
Sticking with 11 schools (and a five-team division) presents scheduling issues, most notably in football where each of the schools would have to find another non-conference opponent during weeks 4-8. Also related to football, the IHSA requires six teams in a conference in order for the champion to get an automatic bid to the IHSA playoffs.
To some, contraction sounds like the easiest way to go–until you have to sit in the same room and tell somebody "Thanks for your time, but you need to go." That doesn't even take into account arriving at the decision of which team will be contracted–which could take some expert Survivor skills to navigate all the various alliances between schools.
Told you it was complicated.
It will be quite interesting to see the direction these conferences will take in the coming weeks, and which dominoes will end up falling.