MARION — The phrase "right place, right time" may be the best way to describe West Frankfort boys head basketball coach Pete Gordon's Saturday.
Gordon was laying on his couch when he heard quite a ruckus outside. His kids were playing with the neighbor's kids, but this noise was a little different. So Gordon went to the door to see what was going on, and there he found his son running home, telling him that his friend's cousin was drowning in the neighbor's pool.
Gordon rushed over the neighbor's house, where the girl's younger sister had jumped in and pulled her up from the bottom of the 12 foot pool. The girl was not breathing, so Gordon administered CPR–buying enough time for first responders to get there and take over. The girl was flown to a hospital in St. Louis. Doctors believe she will make a full recovery.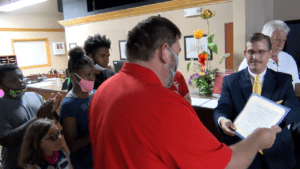 At Monday night's Marion City Council meeting, Mayor Mike Absher recognized Gordon, the policemen, and paramedics that all helped save the girl. The girl is the niece of the city's IT Director, Terance Henry. Henry described how the frightening events unfolded–how his other niece dove in and pulled her sister out, how Gordon brought her back to life, as well as the lightning quick response of the police and paramedics.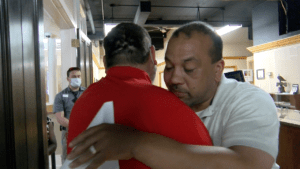 Paramedic Michael Willis was one of the crew on scene. He said the "chain of survival" worked perfectly. The family rescuing her from the water, Gordon performing CPR, 911 getting law enforcement and EMS crews there quickly, and the fire department setting up a landing zone for the air evac all turned a potential tragedy into a cause for celebration.
A lot of things fit into that "Right place, right time" category.