Darren Kinnard
Section618.com
VIENNA — Hamilton County junior Maddie Karcher said Thursday's cooler temperatures and cloud cover made for a great day running. We'll take her word for it, namely because she had the results to prove it at the Black Diamond Conference meet held at the Vienna City Park.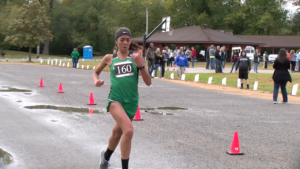 Karcher cruised to the individual title by 29 seconds in a time of 19:22. She led five Lady Foxes to finish in the top seven, as Hamilton County rolled to the team title. Vienna took second, and Chester was third.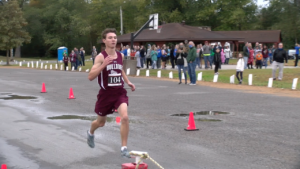 On the boys side, just two days after finishing third in the ZRC 1A Boys Golf Sectional, Carmi-White County senior Ty Barbre dominated the field, finishing in a time of 15:32, which was nearly a minute and a half faster than teammate Tanner Spence who was second.
Fairfield placed five in the top 13 to take home the team title. The host Eagles finished second, and Hamilton County was third.
Final Boys Team Results:
Fairfield 41
Vienna 48
Hamilton Co. 55
Goreville 77
Carmi-White Co. NTS
Chester NTS
Johnston City NTS
Final Boys Individual Results:
1) Ty Barbre, Carmi-White Co. 15:32
2) Tanner Spence, Carmi-White Co. 16:55
3) Trace Butler, Hamilton Co. 17:16
4) Cambell Douglas, Vienna 17:40
5) Braydon Middendorf, Hamilton Co. 17:40
6) Austin Schuster, Fairfield 17:51
7) Avery Warehime, Vienna 17:53
8) Colton Ethridge, Vienna 17:53
9) Chase Smith, Fairfield 17:54
10)Cole Rushing, Goreville 17:54
Final Girls Team Results:
Hamilton Co. 18
Vienna 39
Chester 81
Carmi-White Co. NTS
Eldorado NTS
Fairfield NTS
Goreville NTS
Johnston City NTS
Final Girls Individual Results:
1) Maddie Karcher, Hamilton Co. 19:22
2) Hannah Moore, Hamilton Co. 19:51
3) Caroline Lueke, Hamilton Co. 20:01
4) Katrina King, Vienna 20:13
5) Ashlee Wellen, Hamilton Co. 20:24
6) Mackenzie Willis, Carmi-White Co. 21:11
7) Kaylie Brake, Hamilton Co. 21:15
8) Chloe Capron, Vienna 21:18
9) Emma Rush, Vienna 21:23
10)Jaylyn Rademaker, Vienna 22:46