Darren Kinnard
Section618.com
HERRIN — The Carbondale Terriers won the Herrin Girls 1A Tennis Sectional team championship thanks to winning both the singles and doubles titles.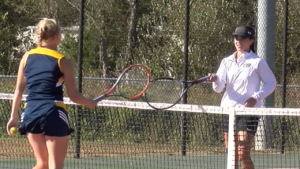 Carbondale's Skylar Moore defeated top seeded Margaux Bruce from Marion 6-1, 6-2 in the finals. Perhaps even more impressive than the dominant performance in the finals by the freshman is the fact it came on the heels of a three hour epic semifinal win. Moore trailed Benton's Taylor Moore 5-2 in the third before winning the final five games to earn a spot in the finals. She won 17 of the final 20 games played Saturday.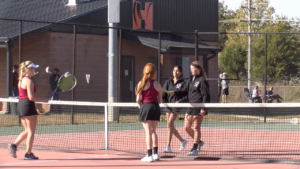 Carbondale's Shreya Patel and Jessie Harper also put in a lot of work Saturday to win the doubles championship. Patel and Harper downed top seeded Kelby Weber and Bre Nesler from Herrin in three sets in the semifinals before beating the Benton duo of Madison Kreiner and Adriana Tonn in the finals 6-3, 2-6, 6-3.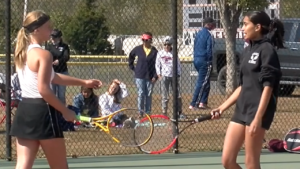 Final Team Standings:
Carbondale 24
Benton 16
Herrin 16
Marion 16
Carmi-White Co. 11
Fairfield 4
Mt. Vernon 4
Vienna 4
Mt. Carmel 2
Final Individual Results:
Singles
Semifinals
Margaux Bruce (Marion) def Jaylan Blake (Herrin) 6-2, 6-1
Skylar Moore (Carbondale) def Taylor Moore (Benton) 6-3, 2-6, 7-5
Finals
S. Moore (Carbondale) def Bruce (Marion) 6-2, 6-1
3rd Place
T. Moore (Benton) def Blake (Herrin) 6-3, 6-0
Doubles
Semifinals
Shreya Patel/Jessie Harper (Carbondale) def Kelby Weber/Bre Nesler (Herrin) 6-3, 2-6, 7-5
Madison Kreiner/Adriana Tonn (Benton) def Jasmine Smith/Hannah Lueke (Carmi-White Co.) 3-6, 6-2, 6-3
Finals
Patel/Harper (Carbondale) def Kreiner/Tonn (Benton) 6-3, 2-6, 6-3
3rd Place
Smith/Lueke (Carmi-White Co.) def Weber/Nesler (Herrin) 6-3, 6-7 (4), 6-4