Darren Kinnard
Section618.com
After sweeping the singles and doubles titles at the Herrin Girls Tennis Sectional to close the season, the Carbondale Terriers have also swept the region's postseason awards.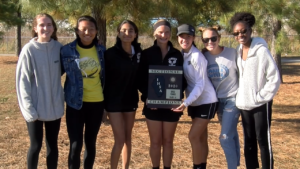 Freshman Skylar Moore was named the Southern Illinois Coaches Association All-South Player of the Year, and Mike Butler was named Coach of the Year.
Richland County put five players on the 17-member All-South squad. Benton, Carbondale, and Herrin each had three players selected.
Here is the full list:
Singles
Jaylan Blake, Herrin (Sr)
Margaux Bruce, Marion (Jr)
Skylar Moore, Carbondale (Fr) Player of the Year
Taylor Moore, Benton (Jr)
Evie Potter, Richland Co. (Fr)
Doubles
Zoe Alexander, Richland Co. (Sr)
Grayce Burgener, Richland Co. (Fr)
Riley Doll, Richland Co. (Sr)
Jessie Harper, Carbondale (Jr)
Mikaela Inskeep, Richland Co. (Sr)
Madison Kreiner, Benton (Sr)
Hannah Lueke, Carmi-White Co. (Sr)
Bre Nesler, Herrin (Sr)
Shreya Patel, Carbondale (Sr)
Jasmine Smith, Carmi-White Co. (Sr)
Adri Tonn, Benton (Fr)
Kelby Weber, Herrin (Sr)
Mike Butler, Carbondale: Coach of the Year