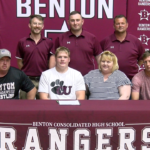 Darren Kinnard
Section618.com
BENTON — One of the area's top wrestlers has picked where he'll be headed to school at the next level. Benton's Gabe Craig signed with Campbellsville University, an NAIA school in Campbellsville, Kentucky.
Craig says he had the choice narrowed down to two schools, and that a campus visit made it an obvious choice.
"When I went there, I just felt more comfortable, more at home," Craig said. "It's what we have here. We're a tougher team. We practice harder, and I just felt way better there. You could feel the vibe of them having a harder practice. You can tell when you walk in a gym what's going on there."
As with so many seniors trying to figure out their college choice, Craig says the pandemic complicated the process. While most sports were shut down in Illinois, Craig traveled out of state to compete in tournaments in Iowa, Missouri, and Wisconsin among other places, but college coaches could have no contact.
He also had to travel to train.
"I traveled to Mattoon 2-3 times a week and sometimes I'd stay the weekend," Craig said. "I'd go up there and train with Logan Patton from Tolono. They would travel to Mattoon, and I'd travel the two hours up there. I got great work in there. I love the guys. They've almost become part of the family."
Craig admits there's definitely a sense of relief in having his decision finalized.
"I've been worried about, not worried, but anxious almost trying to figure out where I'm going," Craig said. "At first I had my mind set on going to D-1. That was my biggest thing. I was gonna to go D-1, wanted to go. Then I was looking more down to the ranges. I haven't been wrestling long, so I could NAIA, get more years and possibly transfer up."
"Right now, I'm focused on getting my degree and getting my life going," Craig added.
For now, Craig says he will enjoy the final part of his senior season, although he's disappointed there haven't been any tournaments, and there will not be a postseason. Craig finished tied for eighth at state in the 1A heavyweight division last year.