Danny Czerwinski
Section618.com
MT. VERNON — When the IHSA decided to move the golf season up a week, the hope was that the great golf would continue, and the weather would match the level of golf. On a rather warm, summer-like day in early fall at Green Hills Golf Course in Mt. Vernon, everyone got what they wanted at the Hamilton County 1A Boys Sectional.
The calm morning allowed for players to take advantage. In the afternoon, the wind kicked up and the course took back what was given during the morning. With the wind kicking up, course drying out, and greens firming up for quick putting surfaces, the lead teams and individuals who jumped out too early leads started to settle back to the pack making for a great finish to the day.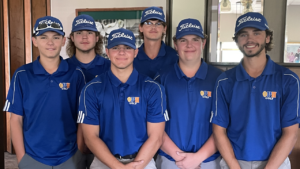 In the team competition, Oblong was your team champion. The Panthers shot a 320 edging out both Effingham St. Anthony and Vandalia by a single shot. The Bulldogs and Vandals also advance as teams to the State Tournament.
Anna-Jonesboro finished in 4th shooting a 328 as a team. Okawville (10th), West Frankfort (11th), and Nashville (12th) rounded out Section 618 team scores.
The top individual was Chase Laack from Vandalia. The senior shot a 1 over par 72 to win medalist honors. Of the ten golfers that qualified as individuals for the State Tournament, six were from the Section 618 area. Leading the way and finishing overall runner up was Goreville senior AJ Johnson. Johnson shot a 2 over 73, which included a chip in for par on the final hole of his round.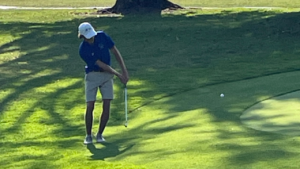 Anna-Jonesboro senior Luke Lasley continued his impressive postseason run with a 3 over 74 to finish third overall. Parker Boehne of Christ Our Rock Lutheran of Centralia tied for fourth overall with a 5 over 76.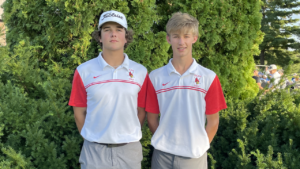 A pair of juniors for the West Frankfort Redbirds advanced to state as well. The first was Ben Herron with a 6 over 77 to tie for sixth overall, while teammate Lucas Whittington shot a 7 over 78 to tie for 10th. The final individual to quality for state was senior Caleb Trieb of Marissa/Coulterville who carded an 8 over 79 to advance.
Now it's on to the Class 1A State Tournament hosted by the Prairie Vista Golf Course in Bloomington. Play will get underway Friday morning.