Darren Kinnard
Section618.com
BLOOMINGTON — Johnston City's Corbin Hickey caught five passes for 98 yards and a touchdown and was named his team's offensive MVP at the 48th Illinois High School Shrine Game at Illinois Wesleyan University in Bloomington Saturday.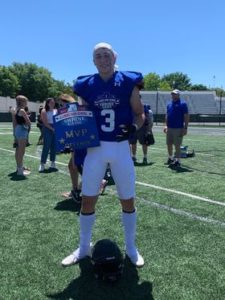 Hickey caught a 50-yard touchdown pass from Monticello's Joey Sprinkle in the first half for what turned out to be the Blue team's only score of the day.
Carbondale's Gabe Hillard served as one of the four captains for the Red team. Hillard's reception late in the half helped set up the go ahead touchdown and two-point conversion for the Red. Anna-Jonesboro's Gavin Osman added a second half field goal as the Red team went on to win the game 11-7.
Other players from the region joining Hickey on the Blue team included Keegan Glover and Chase Thomas from Benton, Fairfield's Konnor Dagg, and Sparta's Colin Sheldon. Nashville's Isaac Turner, Wesclin's Logan Counsell, and Mater Dei's Reed Timmerman joined Hillard and Osman on the Red team.
Fairfield's Justin Townsend (Blue) and Carbondale's Bryan Lee (Red) were both members of the coaching staffs.