Darren Kinnard
Section618.com
JUNCTION — The Webber Trojans advanced to just the second sectional final in program history with a 41-39 win over the host Hawks at the Gallatin County 1A Sectional.
After rallying from a 10-point deficit late to defeat Sesser-Valier in the regional final, the Trojans rallied from a 7-point third quarter deficit to beat the Hawks. They had to survive some shaky free throw shooting down the stretch along with missed opportunities by the Hawks.
Trailing 40-38 with 3.5 seconds to play, Gallatin County's Grant Jackson was fouled driving to the basket. Jackson hit the first free throw, but missed the second. Webber's Aden Reel grabbed the rebound and was fouled. Reel also hit the first free throw and missed the second, but teammate Elijah Marlow was able to corral the rebound, and time ran out.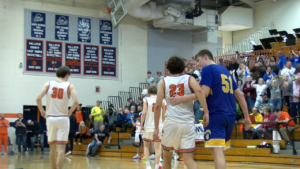 After the buzzer, Webber senior center Hunter Danberry, headed straight for Jackson to offer some words of encouragement before joining the rest of his team to celebrate the win. Danberry led all scorers with 17 points. Weston Hails added 12 for the Trojans. Rylie Rushing led Gallatin County with 15 points. Jackson added 13 for the Hawks.
Seeded 6th in the subsectional, Gallatin County was a surprise entry in the sectional, upsetting Crab Orchard and NCOE to win a regional. The Hawks finish the season 15-15.
The Trojans advance to Friday night's sectional championship where they will face either Wayne City or Meridian.