Darren Kinnard
Section618.com
NORMAL — Trophies, especially state championships, have been difficult to come by for teams from the 618 region historically at the Girls State Basketball Tournaments. Coming into this year's tournaments, teams from the region had won 46 trophies (1st-4th) in 44 previous tournaments, including eight state championships.
March 4, 2023 turned out much different, as teams from the region collected four trophies, including three state titles.
Okawville is one of the few schools to have experienced success at state. Under the guidance of first-year head coach Haylee Bowers, the Lady Rockets added to that Saturday by defeating Christopher 56-35 in an all-618 1A State Championship game. It's Okawville's seventh trophy in girls basketball, and region-leading third state championship.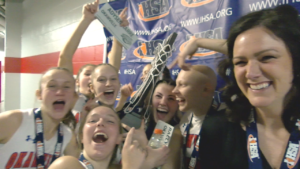 The Lady Bearcats, also led by a first-year head coach in Hayden Carter, had never even won a sectional prior to this run to the title game. In addition to sectional and supersectional plaques, Christopher will add the State Runner Up trophy to the display case as well.
Okawville led 13-8 after one quarter and extended that lead to 10 in the second quarter. Despite All-Stater Amiah Hargrove being in foul trouble, the Lady Bearcats were able to close within 25-20 in the final 30 seconds of the half. The Lady Rockets' All-Stater, Alayna Kraus, hit a runner in the final seconds to give Okawville a 27-20 lead at the half.
After Christopher scored the first bucket of the third quarter to cut the deficit back to five, Okawville broke the game open with a 15-2 run and never looked back, cruising to the 21-point win.
Kraus led the Lady Rockets with 21 points and five rebounds. Megan Rennegarbe added 17 points and five rebounds as well. Hargrove led the Lady Bearcats with 19 point and eight rebounds.
Okawville finishes the season 34-4, while Christopher finished 31-4.
The all-618 1A final was just the start to a huge day in Normal for the region. Breese Mater Dei won the 2A State Championship, beating Byron 62-46. Lady Knights 6'5 sophomore Alyssa Koerkenmeier led the way with a rare triple-double. She finished with 23 points, 14 rebounds and 10 blocks.
Then O'Fallon closed the unprecedented day for the region by winning the 4A State Championship with a 62-57 victory over Benet Academy in double overtime. Shannon Powell led the Panthers with 25 points.
During the regular season, Okawville played the other state champs from the region a total of three times, beating Mater Dei twice and O'Fallon once.