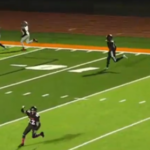 Mt. Vernon — The Mt. Vernon Rams sealed their playoff bid with an exclamation mark after a 49-14 win over Alton at Ken Hunt Stadium on Friday night.
The win also saw two rushing touchdown records broken after senior running back Navontae Nesbit, Jr., scored two first quarter touchdowns to break the career and single season marks.
Nesbit got the scoring started early with a 17-yard TD run and then turned right around with the 2-yard TD run following Alton's difficulties getting the offense going. The Rams led 14-0 after one.
The start of the 2nd quarter saw Mylan Nettles get a 74-yard touchdown run and stretch the lead to 21-0. On the following drive, Nesbit reeled in a defensive score after a 72-yard interception return gave us the halftime score of 28-0.
Nettles found the end zone a second time when he ran in a 26-yard touchdown run with 7:17 left in the 3rd quarter. Alton came right back at the 6:23 mark when Riley Smith found Travis Billups for a 65-yard touchdown pass that got them on the scoreboard and make the score 35-7.
Freshman Mailk Grissom began to return a kick and then reversed to Nesbit who finished off the 83-yard return and give the Rams a 42-7 lead just 14 seconds later. Nesbit added a final touchdown from one-yard and capped the Rams scoring at 49-7. This drive was setup by a Jhymear Smith-Henson strip sack with the fumble recovered by Colter Pokojski.
Alton added a late 3rd quarter touchdown to set the 49-14 final.
Nesbit finished with 20 carries for 119 yards and 3 TDs (unofficial stats) on the ground and is now within 50 of single season rushing yards (Ethan Rivera 1,482 in 2022) and 300 of the career mark (DeMontez Miller-Gray 2,551). Nettles finished with 9 carries for 155 yards and 2 TDs. Injured senior QB Payon McMillen also returned to action taking the final knees of the game to the delight of the crowd.
Alton finishes the season at 1-8. Mt. Vernon is now 6-3 and awaits their playoff fate with Saturday Night's IHSA Playoff Pairings Reveal. Mt. Vernon's playoff run will be carried on 94.1 FM (WMIX) with streaming video on the WMIX Sports YouTube Channel and Section618.com App (where allowed).