Darren Kinnard
Section618.com
CENTRALIA — Carbondale's Madeline Prideaux and Marion's Dylon Nalley each took home medalist honors from the six-team Orphan Invitational held Thursday at Centralia's Foundation Park.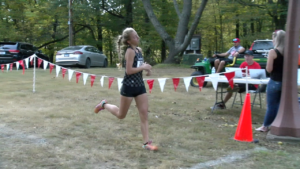 Prideaux pulled away from Mt. Vernon's Britney Brown over the second half of the race to win by 41 seconds with a time of 19:56. Prideaux's teammate Kara Holub took third.
Breese Mater Dei placed five in the top 11 to take home the team title. Carbondale finished second with Mt. Vernon taking third.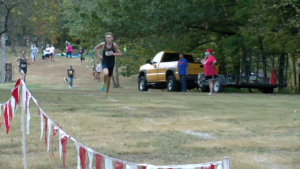 Marion's Dylon Nalley and Carbondale's Tucker Poshard battled throughout the boys race, with Nalley getting a bit of separation late to win by four seconds with a time of 15:19. Mt. Vernon's Kevin Perkins also broke the 16:00 mark to finish third.
The Wildcats put five in the top ten to cruise to the team title. Mt. Vernon was second with Carbondale taking third.
The South 7 teams will be back at Foundation Park next Thursday for the conference meet.
Boys team results:
Marion 29
Mt. Vernon 84
Carbondale 93
Mater Dei 97
Centralia 100
Salem 112
Boys Individual results:
1) Dylon Nalley, Marion 15:19
2) Tucker Poshard, Carbondale 15:23
3) Kevin Perkins, Mt. Vernon 15:59
4) Logan Morgan, Marion 16:10
5) Isaac Donaldson, Marion 16:15
6) Tommy Marron, Mater Dei 16:18
7) Cory Fleeman, Centralia 16:21
8) Ethan Stevens, Carbondale 16:29
9) Benja Stone, Marion 16:47
10)Cade Parks, Marion 16:49
Girls team results:
Mater Dei 34
Carbondale 41
Mt. Vernon 66
Marion 97
Salem 106
Centralia NTS
Girls Individual results:
1) Madeline Prideaux, Carbondale 19:56
2) Britney Brown, Mt. Vernon 20:37
3) Kara Holub, Carbondale 21:16
4) Avery Rahden, Mater Dei 21:28
5) Coryn Toennies, Mater Dei 21:34
6) Julia Korte, Mater Dei 21:58
7) Sadie Torre, Carbondale 22:02
8) Trina Brokering, Mater Dei 22:21
9) Alexis Basi, Marion 22:31
10)Maelee Allen, Mt. Vernon 22:35