Ryan Roddy
Section618.com
CENTRALIA — After a 48-40 loss at home to Breese Central Wednesday night, the Centralia Orphans ended the week with two straight wins.
Friday night, the Orphans got 16 points from Koby Wilmoth and a dozen each from guards Cruz Harlan and Jeremy Dalton on their way to 56-35 conference win over the Carbondale Terriers. The Orphans led throughout with seven different players scoring. The Terriers got 15 points from DeCarl Payne and 14 from Jeremiah Tate in the loss. Centralia sits atop the South Seven conference at 3-0.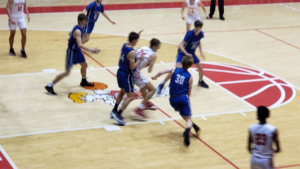 The Orphans improved to 14-2 on the season Saturday night with a 45-38 win over the Columbia Eagles. Wilmoth led the way again with 17 points while Davin Tabor had 14.
Centralia will host Althoff Friday night before heading to Evansville Saturday afternoon to play in a shootout.