Darren Kinnard
Section618.com
PEORIA — It was a day to remember for area runners at the State Cross Country meets in Peoria, as they brought three state championships and 15 medals back home to the 618.
Benton junior Gavin Genisio, Richland County senior Tatum David, and Marion junior Dylon Nalley all won state titles on a windy and rainy day at Detweiller Park in Peoria. Genisio edged Pinckneyville junior Isaac Teel to win the 1A Boys State Championship with a time of 14:57. David won the 2A Girls title by 19 seconds with a time of 17:05, and then Nalley posted the day's best time, regardless of class, winning the 2A Boys title with a time of 14:44.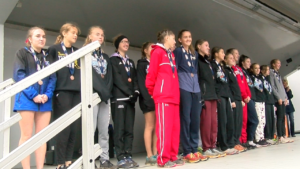 The south had six medalists in the 1A Girls meet, led by Father McGivney junior Kaitlyn Hatley's seventh place finish. That was a spot ahead of Pope County junior Ahry Comer. Murphysboro sophomore Miah Gilmore was tenth. Okawville freshman Caroline Tepe (20th), Pinckneyville's Vanessa Teel (23rd), and Anna-Jonesboro's Brodie Denny (25th) all medaled as well. A-J finished a program best 6th as a team. Pinckneyville was 18th, Carterville 24th, and Freeburg 28th.
In addition to Genisio and Teel, Columbia junior Ethan Hogan (5th), along with Benton sophomores Gabe McLain (9th) and Cole Buchanan (15th) also medaled. With three in the top 15, Benton wound up fifth as a team. Pinckneyville finished 17th, Freeburg 21st and AJ 30th. For complete 1A results, click here.
In the 2A Boys race, Marion finished eighth as a team with Mt. Vernon winding up 25th. For complete 2A results, click here.